Below is a list of 10 Most Amazing Giant Sculptures around the world.
10. London Ink Swimmer
This 46-feet long and 10-feet high sculptures of a life-like swimmer swimming through the grass, south bank of the Thames between Tower Bridge and City Hall, was commissioned by the London Ink reality TV show.
9. Louise Bourgeois's Spider
Louise Bourgeois's 30ft spider, made of bronze, stainless steel and marble, stands outside the Tate Modern, London. It is one of six built by the 95-year-old acclaimed artist.
8. Big Buddhas: The Monywa Buddha
This reclining Buddha of Burma (Myanmar), is a frequent theme in Buddhist art, signifies the Buddha's parinirvana — his death and entry into nirvana. The reclining buddha of Monywa is hollow, and people can walk inside its 300-foot length and view 9,000 small images of the Buddha and his disciples. This was built in 1991.
7. The Magic Tap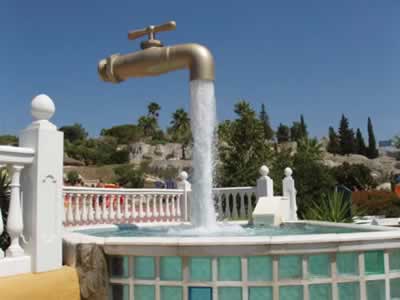 Founded in Aqualand- Cadiz, Spain, The "Magic tap", which appears to float in the sky with an endless supply of water. Actually, there is a pipe hidden in the stream of water that holds the whole structure.
6. Oversized Silver Dog, Denver, Colorado
Sitting attentively outside Denver's Animal Shelter, a 20-feet high dog glistens in the Colorado sunshine. Created by Laura Haddad and Tom Drugan for the city of Denver, Sun Spot consists of a steel skeleton adorned with over 90,000 shiny dog tags that shimmer and dance in the breeze. This friendly pup welcomes visitors to the animal shelter as well as curious tourists passing by on Interstate-25. In the evenings, Sun Spot is set aglow with LED lights, giving man's best friend a colorful, heartwarming presence.
5. Monster Saw, Tokyo, Japan
One of the eye-catching sculptures around the world is Monster saw, the massive 15.4 meter high, red-handled handsaw sticking out of the ground in front of the main entrance hall – Tokyo International Exhibition Centre — or Tokyo Big Sight. Created by Claes Oldenburg and Coosje Van Bruggen, the saw attracts art lovers, curious onlookers, and tourists with a sense of humour.